Hello everyone.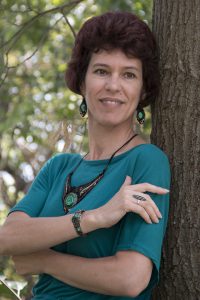 My name is Julia, and I am fascinated with magnificent minerals and semi-precious gemstones. Russian-born, I grew up watching my mother and other women of her generation wearing gorgeous malachite, agate, amber, and other colorful jewels, and listening to enchanting and mysterious stories about the wealth and prosperity of our beautiful Mother Earth. Handmade semi-precious stone jewelry was an integral part of the Russian culture. The Baltic Seacoast was rich in amber, and the Ural Mountains were rich in many resplendent minerals, such as jasper and rhodonite. Local residents were masters at mining these gemstones, designing and hand-crafting jewelry. Children absorbed a love for the beauty of semi-precious stones with the first sips of their mother's milk. They learned the names of the minerals and their basic properties at a very young age from the Mistress of the Copper Mountain – a character from the fairy tales written by Russian author, Pavel Bazhov. So did I.
It is no wonder that when my own family moved to the United States, and I had a chance to introduce Russian artisans and their products to the American public, I didn't think twice about accepting the opportunity. While studying software engineering in school, I opened up a small shop with semi-precious stone jewelry hand-crafted in the Ural Mountains. Nowadays, after almost 20 years of professional career in IT, I have returned to my passion. Residing in an international city such as Boston, Massachusetts, and having been able to travel the world, I've expanded my knowledge on semi-precious stones of many different origins. I still love semi-precious stones in my jewelry better than precious diamonds and sapphires! The deep colors in rich patterns evoke a fantastic world that inspires my imagination, and I hope yours, too. I am wearing a Russian malachite set in this photograph.
Thank you for visiting my website and giving me an opportunity to share my knowledge and passion with you! I look forward to answering your questions and learning from you as well. Just simply leave a comment on this page or connect with me via email: Julia@gemstones.artgemsweb.com
I hope this day brings you lots of smiles!
~ Julia